Flowy wedding dresses are a popular choice for romantic and bohemian brides. Does this sound like you? Then, read on. We have selected our top three styles. These are so stunning; your romantic flowy wedding dress might be one of the three. These comfortable and easy-to-wear gowns are suitable for brides, no matter your body type. Whether you like all lace mixed with silk or lace and crepe, all are dreamy and will make your day more magical. The flowy fabric creates a flattering and feminine silhouette. Dreamers & Lovers will customize all three styles to fit you perfectly, making these options even more special. Whether looking for something whimsical and delicate or something more structured, a boho, flowy wedding dress is perfect for a beautiful and memorable wedding day. Say yes to lifetime memories, looking stunning and comfortable marrying your best friend.
If you have already started shopping for your wedding dress, you know how overwhelming this process can be. You scour Pinterest and Instagram and watch a marathon of 'say yes to the dress,' and you are left feeling overwhelmed rather than inspired. Your search could get less overwhelming. Choosing a boho, flowy wedding dress should make saying yes to your dress easier. These dresses are not only beautiful and romantic, but they are also comfortable and easy to wear. A win, win. Whether you're a bohemian bride or simply looking for a dress that exudes elegance and grace, a flowy wedding dress is perfect.
Flowy wedding dresses are ideal for brides of all body types. Unlike a fitted dress that often comes with stipulated rules, the flowy silhouette is forgiving, easy to wear, and looks great on everyone. The Hayley flowy boho wedding dress has a dreamy lace and crepe skirt. The relaxed, loose-fitting silhouette creates a flattering and feminine look, while the movement of the fabric adds a touch of ethereal luxury. Whether petite, plus-size, or anything in between, this flowy wedding dress will help you feel confident and beautiful on your big day. The Hayley is brilliant because, in addition to the flowy skirt, the movement of the sleeves is rhythmic and sings on the body. This style wins because the skirt is manageable, so the subtle a-line shape works. It's a winner.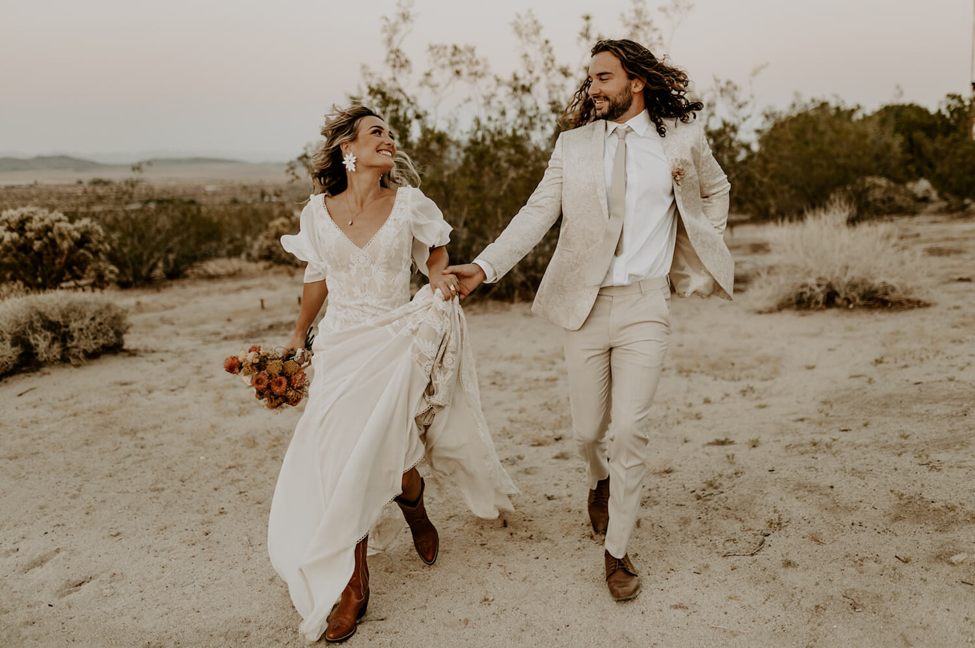 If you love the flowy silhouette but prefer an all-lace style, the 3D Flowy Lace Zinnia Wedding Dress is a stunning consideration. Zinnia is a must-see for those drawn to the carefree boho aesthetic. This style is feminine and whimsical. The gorgeous open back will keep your guests in ahhhh. The v-neckline, while low-cut, provides the perfect coverage and balances the open back. The delicate lace adds a vintage vibe, and the 3D flowers add romance and will make you feel like an actual bohemian princess.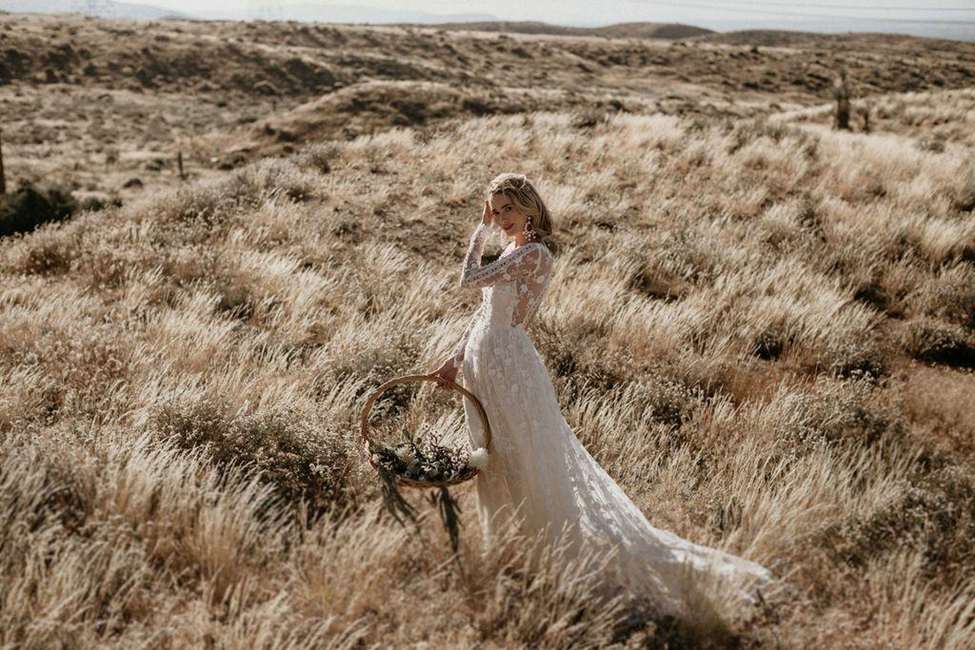 Another option for brides who love the combination of lace and flowy fabrics is a flowy wedding dress with a lace bodice and a silk skirt. For that, fall in love with Dreamers & Lovers, Yaya lace, and silk romantic flowy wedding dress. This style is the definition of simple elegance. Yaya is perfect for the boho bride, the romantic bride, or the classic bride. The 3D lace bodice provides structure and support, while the skirt flows beautifully, adding movement and dreaminess to the entire look. The result is a dress that is both elegant and effortless. Yaya is your dress if you're looking for a flowy wedding dress that provides even more movement. The lightweight silk fabric is perfect for adding flow and movement, creating a dreamy and romantic look. You'll love the way the fabric moves with you, making you feel comfortable and confident all day long. The silk is pillow soft, feels like butter on the skin, and light as a feather.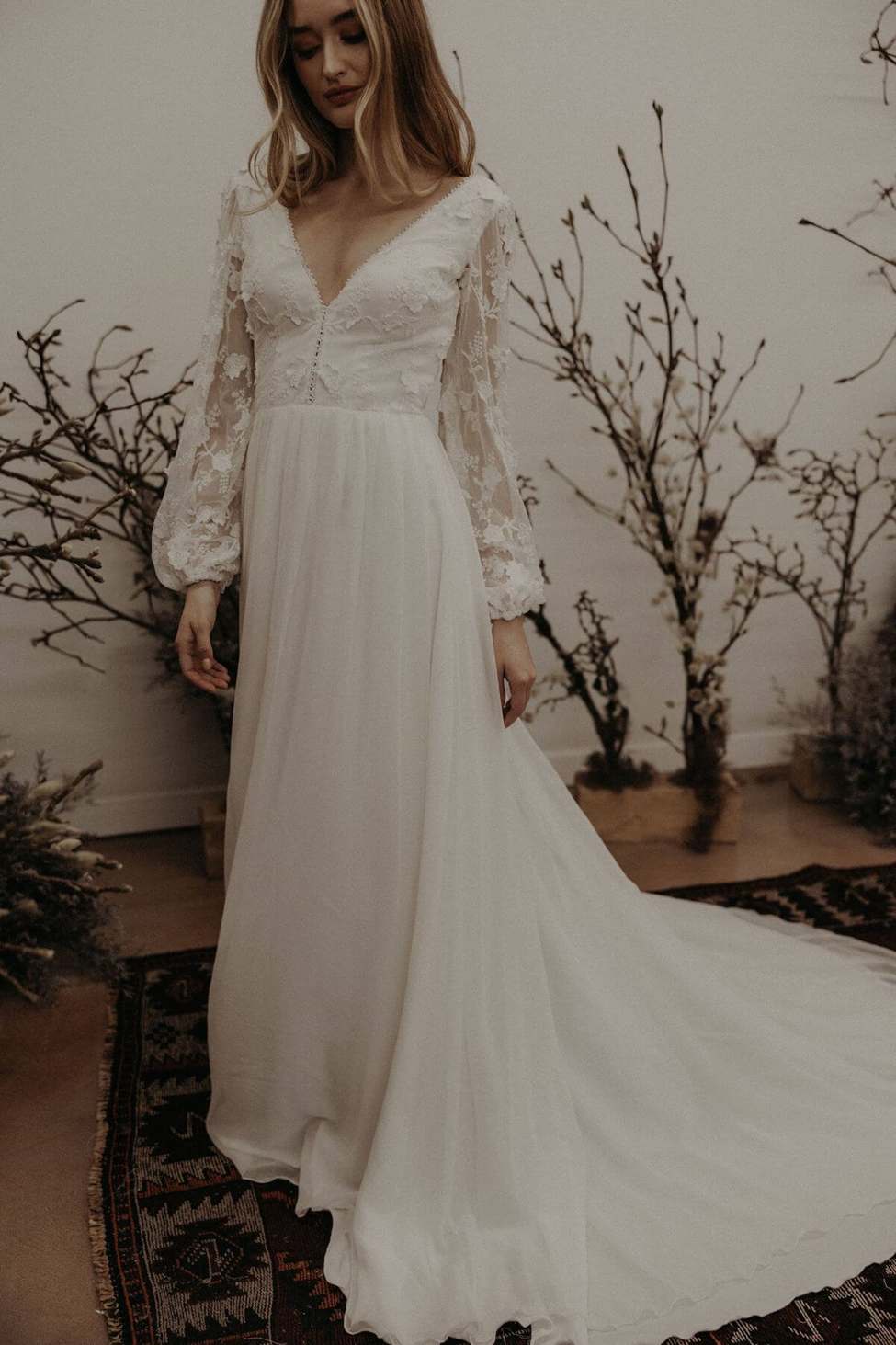 When choosing your flowy wedding dress, it's essential to consider the different styles available. Looking at all three featured styles, not all flowy styles are identical. Some dresses are flowier than others, so finding the right balance for your preference is important. While all three styles are flowy, The Zinnia and Yaya gowns are fitted at the waist and gather and flare at the bottom, creating a flattering and feminine silhouette. On the other hand, the Hayley dress is a modified A-line with slightly less flow, so it skims the figure more.
Whether you buy your wedding dress online or make an appointment to visit a bridal shop, we recommend trying on a few flowy styles to see which suits your style and personality more. A flowy wedding dress is perfect for brides who want to feel comfortable, beautiful, and romantic on their big day. Whether you gravitate towards all lace, lace and silk, or crepe, there are a variety of options to choose from that are perfect for any body type. So, why wait? Start shopping today and find your dream dress!