Just as fashion trends can skyrocket in popularity and then disappear in the blink of an eye, kitchen design trends also change rapidly. What seemed like never going out of style a few years ago can now make the kitchen look dull and outdated, fueling the need for a change in look. However, before jumping on making kitchen décor renovations or even complete overhauls, it's important to acknowledge the trends that are losing ground the following year and ensure your kitchen no longer aligns with that.
The following trends have long overstayed their welcome, so it's time they made fresher trends room on the stage to shine. Read on to discover what we are kicking to the curb in the upcoming year!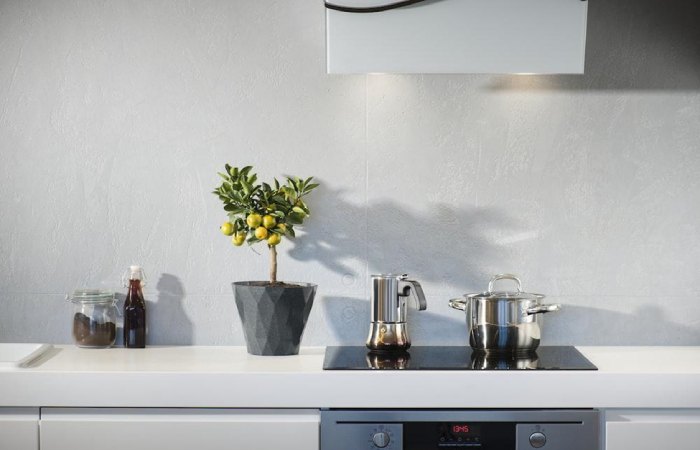 All white kitchens
These days, people have grown increasingly comfortable spending plenty of time at home, which called for a change in perspective on how they visualize and conceptualize one of the most important rooms in their homes, namely the kitchen. White kitchens exuded refinement, elegance, tidiness, and purity, characteristics that hardly other nuances can achieve. However, it's safe to say that people are now looking to animate and bring some wow effect into their cooking room that inspires and helps them unblock their creativity. All white kitchens are now either gradually disappearing from the radar, or seeing other hues like muddy green, mushroom beige, or earthy brown accompanying it.
For the easiest yet most changing effect, you can opt for a different shade in countertops, like beige, off-white, cream, ivory, or anything in between. Or you can make a bolder move and combine your white furniture with countertops in darker hues, whether it's light or dark grey, cashmere, graphite, or taupe. The list of possibilities is endless when you choose a reliable kitchen provider with plenty of diversity in the models offered so that the exact nuance that you're imagining is transposed into your cooking room. Plus, your kitchen makeover project doesn't have to cost a fortune even if you're looking for a complete overhaul since the offline and online stores abound in cheap kitchens that cross quality, style, and longevity of the must-check list.
Grey and almost everything related
Despite the versatility and flexibility of grey in any interior design, it was about time it left our radar and made space for other, bolder hues to have their say. Grey nuances, such as charcoal, marengo, arctic, medium, blue, or platinum, have been all the craze for kitchens worldwide for a while now. For what's worth, you wouldn't have to worry about hiding the dirt and traces left by different kitchen activities, because similar shades would act like an excellent concealer. Plus, you'd see this colour mixed and matched with a plethora of other nuances and elements, since it's neuter and fits so well in almost any kitchen style, whether it's minimalism, modernist, industrial, traditional, eclectic, or any other one that may cross your mind.
However, the grey days are numbered, and 2024 will unfortunately but justifiably see this nuance surrender its place on the podium to other tones, such as lighter or warmer ones. What was once an elegant and refined colour scheme is now lifeless, bland, and even tiring. Warm neutrals like amber, ivory, rust, taupe, and beige are warming interiors and providing the cosy and heartwarming effect that makes you feel more at home in your home. Still, if you're not prepared to kiss grey goodbye, you can keep some textured related accents like the knobs, light fixtures or table. As long as you're not overdoing it to the point where your kitchen feels cold and drab, some grey elements should be harmless or even help you recreate a new colour scheme around them, incorporating brighter and bolder nuances like navy, mint, or sunny yellow.
Open concept
The open room concept has witnessed a lot of popularity that established it as one of the most used models, primarily when the design comes down to kitchens. There was something so comforting about connecting two rooms to create more space and give the whole home the feel of an airier, roomier place. However, this trend may see the end of its fame in 2024 after more than a decade of glory. As people grow more conscious about the health benefits of resorting to homemade food, exploring their culinary abilities, and growing their vegs and fruits, the concept that dominated the kitchens and removed the hindrances between the space intended for cooking and that for living is seeing its decline.
For those torn between a secluded or open kitchen, a middle ground could be the key. Glass pocket doors in the interior of the home are skyrocketing to popularity due to their potential to meet both of the best worlds, while also making the space look sleeker. They don't take up space but rather boost the practicality of the kitchen to unexpected levels.
Open shelving
If you're the type of person who can't stand clutter and messy spots, you're likely on the edge of your seat to see the majestic open shelving trend vanish. Open shelving has seen its days of glory for what some may consider more than deserved, and home interior design platforms like Pinterest are to blame for that. Although the advantages of this design aren't neglectable, like enabling users to showcase their personality by displaying art pieces or their favourite kitchen elements, it's safe to say that it's not the most helpful approach for those looking to make their cooking space as low-maintenance as possible. It acts like a clutter and dust magnet, necessitating a firm dedication to regular cleaning to prevent the room from looking like a mealtime battlefield.
Coming trends
Now that you're aware of the kitchen trends that we will kiss goodbye in 2024, you can take a look over the ones expected to come in hot, including the following:
Solid surface backsplashes
Nature-oriented nuances
Lighting Enhancements
Natural wood cabinets
Dramatic islands
Layered colors
Gold finishes
Bold details.
By harnessing your creativity and keeping an eye on the upcoming trends, you can ensure your kitchen will look like it's out of the magazine and bring you lasting contentment, so don't set limits to your imagination.