Perfect Party Outfits – Party season is upon us, which means it's time to get used to getting all dressed up. To set you up for your most stylish season yet, you're going to need a few ensembles up your sleeve. Try out these 7 perfect party outfit ideas to see you through the end of 2022…
A statement set
Sets are such a great investment particularly for party season but beyond your event styling too! You can separate out your top and bottom components to make them work for more casual occasions, or wear them together for a seamlessly put together look that's sure to leave you feeling amazing. Look for a statement style with a ruffle or feathered crop and long wide leg pants for a comfortable and effortlessly fashionable event look that does all the work for you.
Cut out dresses
A cut out dress is always going to be a winner. You can choose where your creative cut out falls, whether it's across your neckline, waist, back or shoulders this styling component adds an edge to any style of dress. Look for a strong, solid tone like black or orange to let the strength of this piece shine all on its own.
Off the shoulder styles
The off the shoulder dress is a firm fashion favourite and for good reason. Look for long, short or mid length off the shoulder sleeves for a feminine, gentle take on party season. This cut plays particularly well with a-line silhouettes as they accent your waist, flare outwards in a sweet and flattering way and highlight your neckline too – what more could you want from a party dress?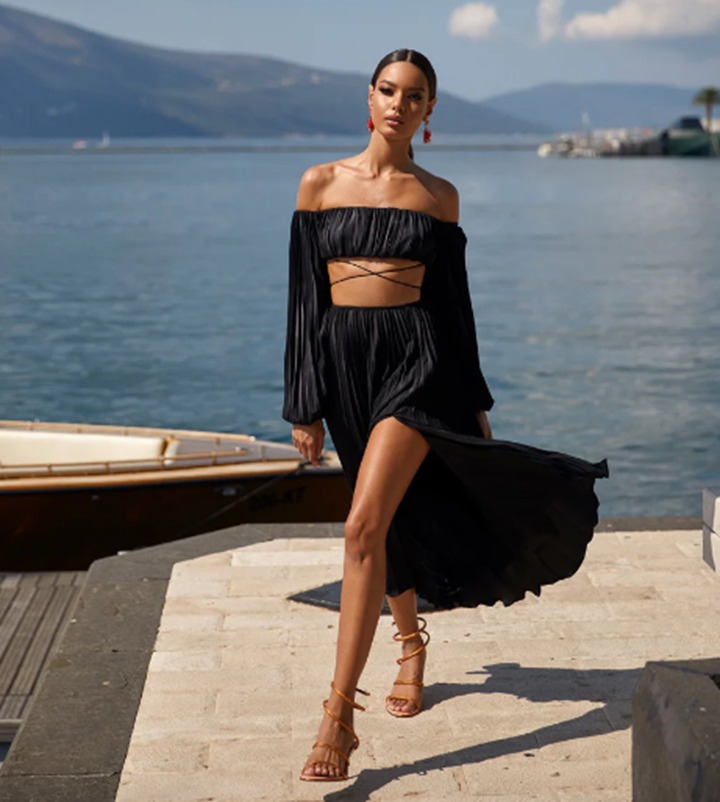 Source: Alamour The Label
Lace up midi
Lace up details on a party dress are hard to resist. Look for intricate lace up detailing across the side panels of a body con dress style for a strong feel that's still dressy enough for a great night out or big event. Keep accessories and hair simple to let this strong, simple piece do the talking all on its own.
Creative cocktail
When it comes to dressing for a cocktail event, there's actually a lot of room for creativity. Look for a cropped length stylish midi dress with some unexpected accents to switch up your evening dressing. Components like pastel hues, layered ruffles of feathers or sheer panelling are all great options for an edgier take on cocktail hour.
Beaded gowns
Beaded dresses and gowns are so breathtakingly beautiful and absolutely perfect for feeling your absolute best for 2022's party season. Look for a beaded dress in a subtle shining colour palette like dove grey or baby blue, with small and intricately woven bead details to avoid overpowering your frame.
Keep it classic
Lastly, there's always time for timeless pieces, particularly when it comes to a party. Look for a classic white or black mini dress in a structured, fitted style for an investment that you can rely on time and time again – plus, you can use this essential as a base for all your styling ideas to come, which makes it incredibly super proof and smart to introduce into your wardrobe.