Beef ribs are an excellent dish for those who want to prepare a quick and delicious meal. If the product's flavor is already reason enough to taste it for many people, cooking it with a good sauce makes it a much more attractive dish. In this sense, the barbecue sauce perfectly combines the ribs and will help you win over your guests. There are many ways to make ribs with barbecue sauce, called BBQ ribs or "barbeque ribs. " You can compose them in the oven, on the grill or barbecue or in the pan. The simplest option is the frying pan, but in addition to making the ribs in the pan, you can also make your own sauce to get a completely homemade dish.
We want to help you discover how to make BBQ ribs in a pan and the best way to make the sauce. So, if you want to learn these easy and delicious beef ribs with barbecue sauce recipe, read on and get to work.
Ingredients:
Ingredients for the BBQ Ribs
 800 grams of beef ribs
 6 tablespoons barbecue sauce
Ingredients for the Barbecue(BBQ) Sauce
 Water (3/4 of a pot)
 400-500 g tomato
 Olive oil for sautéing and frying
 6 tablespoons chopped onion
 2 cloves of garlic
 6 tablespoons white vinegar
 3-4 tablespoons soy sauce (optional)
 2 tablespoons of honey
 Salt and pepper to taste
 Oregano to taste
 Thyme to taste
You Will Need:
 A frying pan.
 One or two pots.
 A wooden spoon to stir.
 A knife.
 A medium bowl or container.
 A spoon or a sauce brush.
 A large Tupperware.
 A platter or a large plate.
Also Read: Do Protein Shakes Make you, Fat?
Steps to Follow to Make this Recipe: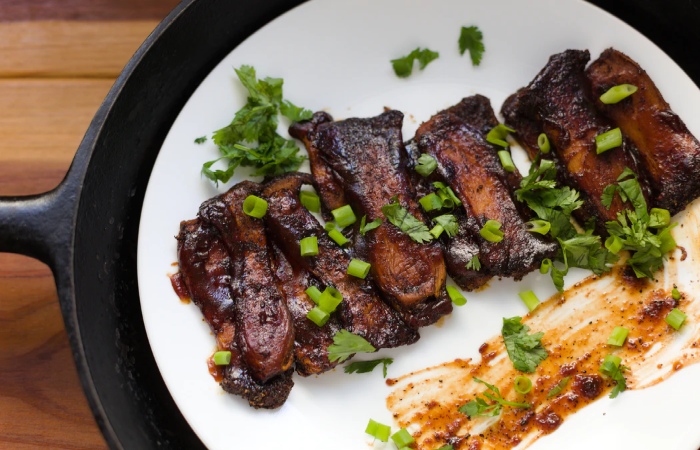 Step 1
To make BBQ beef ribs in a pan, first, place all the ingredients indicated in the list and the materials that you are going to use or that you think you may need (pan, knife, spoon, plates …) within reach of your sight to have them as you need them. In this way, you will avoid forgetting about a product, and you will have a more organized the kitchen, it will be easier for you to clean when you finish the recipe, and you will accumulate(save) a lot of time by not having to look for food or kitchen materials.
Step 2
After putting everything at your disposal, you can start this recipe for BBQ ribs in a skillet or "barbeque ribs." If you have the uncut piece of beef ribs, first separate the parts and make the pieces of the size you prefer. As soon as you have them or if you had already bought them loose, impregnate the ribs with BBQ sauce: you can buy it already made in any supermarket, but if you want to cook, pan-fried beef ribs with a homemade sauce, we help you make the sauce BBQ.
Step 3
Pour olive oil in a pot, try to put an adequate amount to make a sauce. Add 6 tablespoons of minced onion and 2 cloves of garlic for a tasty stir-fry.
Step 4
In another pot, bring water to heat and put the tomatoes so that you can blanch them and remove the skin. With 2-3 minutes boiling, you will see how they peel easily. Another option is to use a concentrated tomato. Whichever option you choose, you will have to add 400 to 500 g of tomato to the sauce. If you have made them natural, once boiled, chop the tomatoes and add them to your sauce. If you do it with concerted tomato, measure the amount indicated, and add it to the sauce.
Step 5
After 4 minutes, you can pour in a little water, the white vinegar, soy sauce, honey, and the rest of the spices in the amounts indicated in the ingredients list. Depending on your tastes and that of the guests, you will have to add or remove these ingredients.
Also Read:10 Best Exercises for Biceps and Triceps
Step 6
Let the BBQ sauce cook and reduce to a simmer for 20 minutes and with a blender, beat all the ingredients, pour the sauce into a bowl large enough to fit all together, and in a little time, you will have made a 100% homemade barbecue sauce.
Step 7
Having already made the sauce, you can impregnate the ribs to take on all the flavor. You can do this by passing the ribs one by one through the sauce or, use a spoon or a brush to take the sauce and distribute it well over the entire surface of the beef ribs. Go placing the ribs soaked in sauce in a large enough dish, plate, or Tupper.
Step 8
Let them marinate for a least two hours. If you are in a hurry, 2-3 hours will be enough, but if you are making them for the next day, the BBQ ribs will take on even more the barbecue sauce's flavor.
To marinate the ribs with the BBQ sauce, cover them well and store them in the fridge. The best way is with a tupper or any other airtight container so that it does not catch other odors from the rest of the food present in the refrigerator. If you do it on a platter or plate, choose to cover the ribs with plastic wrap instead of using silver foil, as it will close better.
Step 9
When the moment comes when you decide to cook them, take the beef ribs out of the fridge. Add enough olive oil to the pan, depending on the number of ribs you make and thinking that they have to be fried, and when it is hot, add the ribs with BBQ sauce. If you heat the oil before adding the ribs, the cooking times will be more effective.
Step 10
Keep in mind that the pan's heat should not be very high: set it to a medium intensity so that the ribs cook little by little. Also, to ensure that they are well done on the inside, cover the pan and move it.
Observe the ribs' color and, when they have a golden hue, remove the lid from the pan so that they finish cooking well. You can add a little thyme and rosemary to the plate or platter to serve them: this will give you a more interesting plate.
Step 11
With the previous steps, you will know how to make ribs in BBQ sauce in a pan, and you will have verified that it is a simple recipe to prepare and with many possibilities of succeeding at any table.
Now, keep in brain that you can also prepare BBQ beef ribs in a skillet or make it with other meats that you prefer.
Tips
This is single of a lot of recipes for BBQ ribs without an oven. You can still combine different species or eliminate an ingredient from the sauce that you do not like to discover more possibilities and make this personalized recipe.
If you do not know which accompaniment may be the ideal one to make the dish more complete if possible, we give you the following ideas: roasted potatoes, fried potatoes, light salads, roasted peppers, roasted tomatoes, sautéed or garlic, caramelized onion, grilled, sautéed gnocchi, sauerkraut, green asparagus, portions of grilled pineapple, grilled or roasted corn on the cob with the ribs themselves, mashed potatoes, tempura vegetables, fried plantain. Also you can find more helpful resources at.
Also Read: 15 Core Exercises for Beginners at Home