If you are wondering about some helpful tips for COVID-19 cleaning and sanitizing, this post will take you through all of that and more.  Here you'll learn how to keep your home and office clean and the steps you should take to do so.
Disinfecting Is More Important Now Than Ever
Disinfecting is more significant now than ever before.  In addition, it's always important to keep a sanitary and disinfected residence or business space.
With the current problem with coronavirus, it's especially important to be vigilant and take all necessary precautions.  In this post we will teach you how to do just that.
Below we will go over 5 tips for COVID-19 cleaning that will get your space in order!
5 Important Tips For COVID-19 Cleaning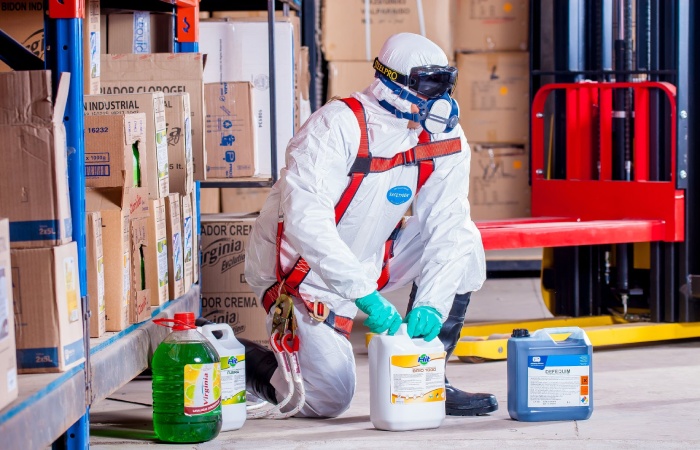 TIP 1: Hire A COVID-19 Cleaning Service
Tip 1 is to do something crucially important.  Hire a COVID-19 cleaning service near you.  While it is an extra expense, it will certainly safeguard your family and employees.  And that's the important thing, isn't it?
Coronavirus is highly contagious. It takes the right cleaners and team to really get the job done right.  So don't hesitate to call a COVID cleaning service and ensure those who enter your home and business are safe.
TIP 2: Use The Right Products
Using the right products is key to cleaning and disinfecting your space properly.  Not every cleaner and product has the power to kill harmful germs and virus.
Checking on the CDC website to learn more about approved products that effectively kill coronavirus is important for your cleaning task.  If you clean with something that isn't strong enough, it will be essentially worthless and put others at risk.
TIP 3: Don't Let Waste Build Up
This is an important tip that can lead to less chances of coming in contact with Coronavirus.  When you let waste and junk build up, you allow germs, virus and bacteria to fester.  This is a very bad thing considering all that is going on.  You want to ensure your space is clean, clutter-free and safe.
You will want to be aware that every state has its own garbage and junk removal regulations.  Be aware of the laws and regulations within your municipality, and be sure to remove unwanted waste as soon as it starts to build up.
TIP 4: Keep Family and Workers Safe
Before anything else, your concern should be in keeping your family, visitors and workers safe.  If there is an incident that may lead you to believe that your space is contaminated, be sure to hire a service and get it taken care of immediately.
Your primary responsibility is the safety of others.  Do the right thing and you'll eliminate any potential dangers.
TIP 5: Don't Forget To Clean All Surfaces
This tip is an important one. You will want to be sure to clean all different surfaces.  This includes surfaces other than just those that are frequently touched.
Cleaning your floors, carpeting, and laundry might not often be considered helpful to dealing with coronavirus.  However, any place that coronavirus may live is a surface that should be treated.
Conclusion
Keeping your home clean and sanitized should be of utmost importance to you in the days that follow. We hope this post has been helpful in giving you some important information on the steps you can take to ensure that your space is clean, sanitized and safe.  We hope you have learned a lot from this post and recommend you follow all of our tips and suggestions.  Good luck to you and be well. Also you can find more helpful resources at knowaboutanything.