Pants are the greatest piece of clothing ever invented. They're comfortable, statement-making, and cool. Plus, they're oh-so-easy to build an outfit around. While some trends come and go, love for finding the perfect pairs of pants is forever. And so are these six pant styles that will absolutely make your wardrobe. We're talking repeated wear, throw on any time you want, look-great-feel-great pants.
These pant styles are the top way to easily put together stylish and trendy outfits. They require almost no additional effort, just adding a blouse or top of your choice (although you can go all out accessorizing, pairing the right shoes, and adding layers). If you're going to be shopping for pants any time soon (and you just might be inspired to after seeing our inspo pics), make sure you look for pants in the following six styles. You can find each pair on Reformation's website.
Wide Leg Jeans
Wide leg jeans are back and cuter than ever. They were really trendy in the 1970s and since all trends return, they're groovy again. Or, if you're from somewhere where country music reigns supreme, you may never have stopped seeing them at all your usual haunts. But now they are officially chic, with brands like Reformation making fitted, accentuating, fresh spins on the look.
The Alyssa High Rise Wide Leg Long Jeans in Helena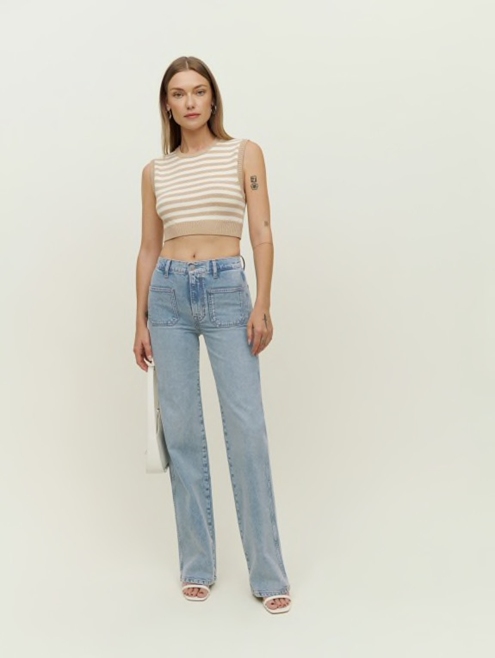 The Jamie Ultra High Rise Wide Leg Jeans in Caspian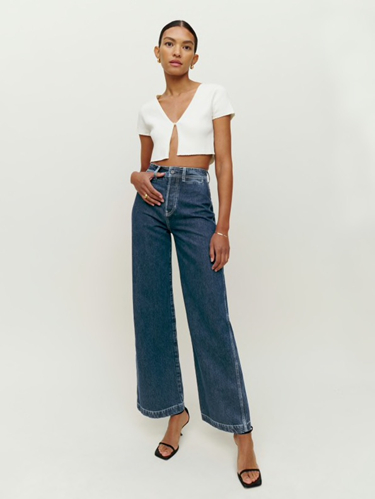 The Emma High Rise Wide Leg Jeans in Black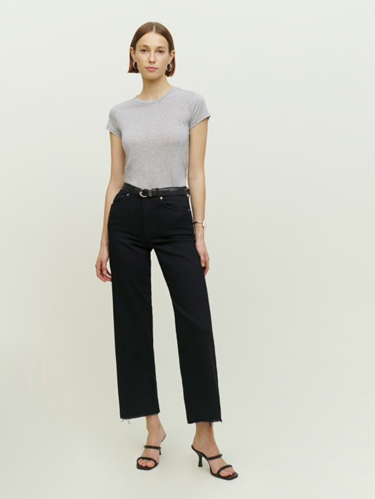 The Wilder High Rise Wide Leg Jeans in Louise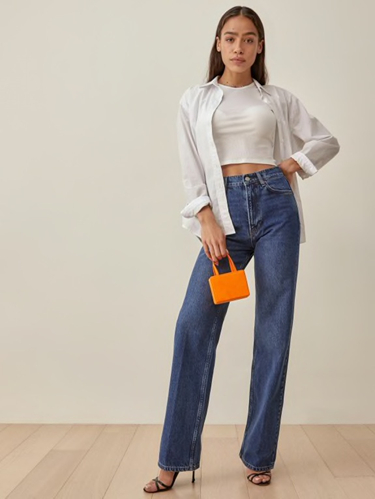 Pleated High Waist Trousers
Trousers are the height of sophistication in the pants world, and now that they're "in" again, they're not only to be worn the way you might expect (such as with heels and a blazer), but also in any individual-style-showing way. You can go bold with trousers with sneakers, or trousers with beachwear, or trousers with graphic tees. The sky's the limit. You can even skip the neutral shades and opt for colored or patterned trousers.
The Montauk Pant in Dark Brown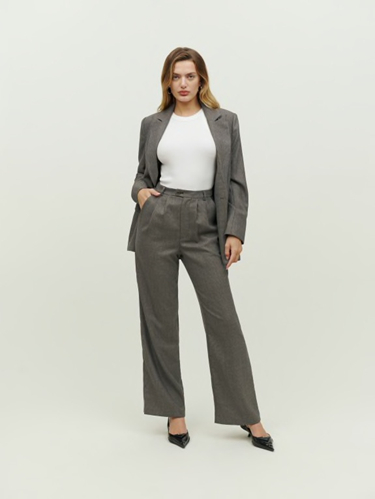 The Vesta Pant in Cafe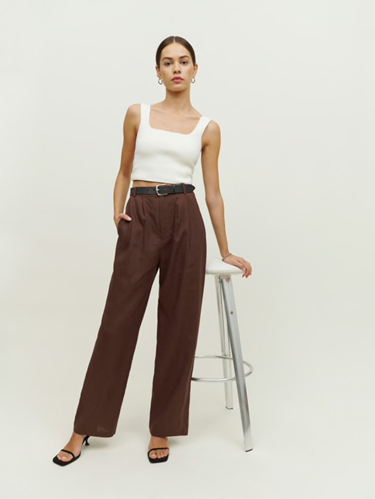 The Mason Pant in Navy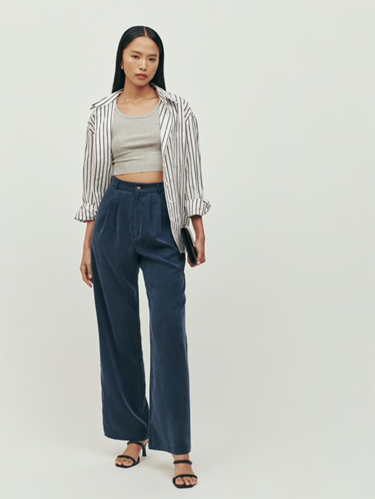 The Avalon Pant in Black

Colorful Pants
Speaking of statement pants, you need a pair (or more) or colorful pants. Material doesn't matter, whether denim, linen, twill, or something else—you can go bright and colorful. A standout pair of pants makes creating an outfit easy, because it commands attention. You can pair it with a simple top and a great pair of shoes, and voila, you've got a killer outfit.
The Tommy Linen Pant in Snapdragon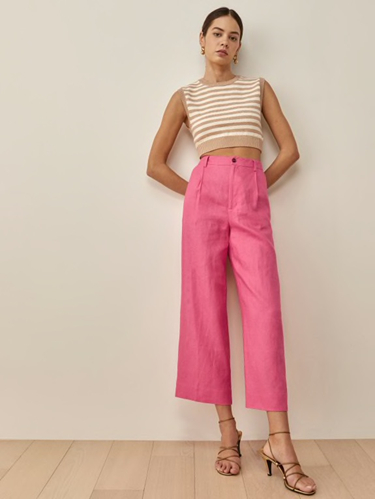 The Cowboy High Rise Straight Jeans in Chocolate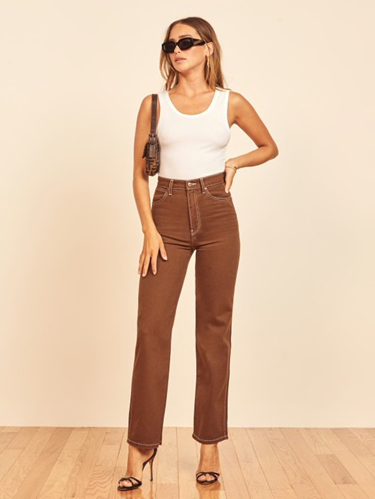 The Cowboy High Rise Straight Jeans in Grass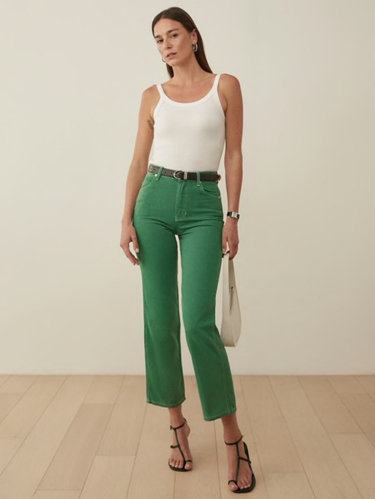 The Silvie Linen Pant in Lipstick

Overalls and Jumpsuits
Trendy colorful bottoms aren't just reserved for pants, but are even better when applied to jumpsuits. Even more so than pants, jumpsuits require minimal effort but are one of the most put-together looks you can create. Simply pair your jumpsuit with your favorite shoes and maybe a statement purse and you're good to go.
The Cassidy Denim Jumpsuit in Jade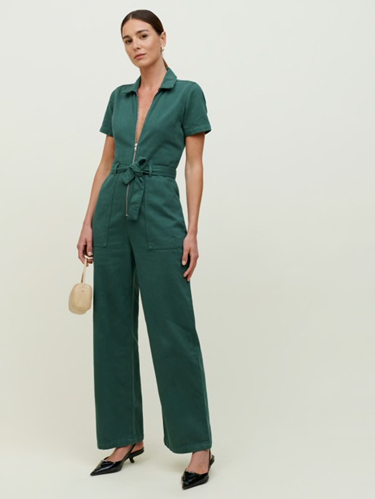 The Dita Wide Leg Jumpsuit in Ennis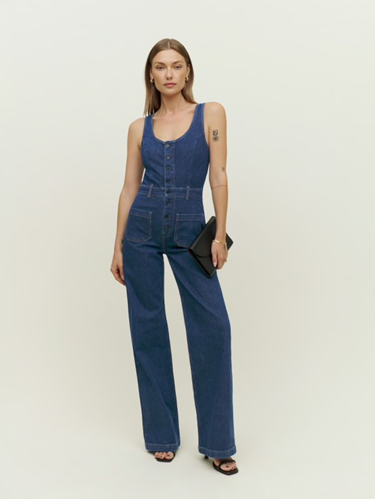 The Milo Utility Overalls in Ladybugs Embroidery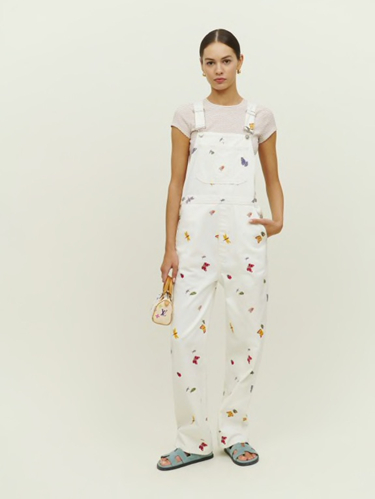 The Morgan Twill Jumpsuit in Cerulean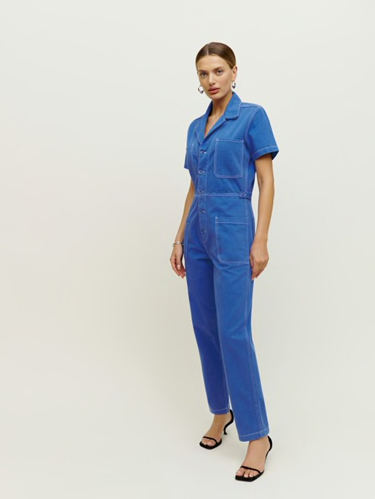 Utility Pants
Utility pants are those relaxed, laid back, throw-on-able bottoms that can carry you through a busy week. One of their best features is that they usually include lots of pockets. Perfect for getting stuff done and looking cool and casual while doing it. Also perfect for doing absolutely nothing and looking even better. Nothing says chic like a laissez-faire attitude about fashion (while looking as effortless for your efforts as possible). But hey, maybe you really do look that good without trying at all. We're convinced as long as you're wearing It Girl utility pants.
The Bailey High Rise Utility Pant in Army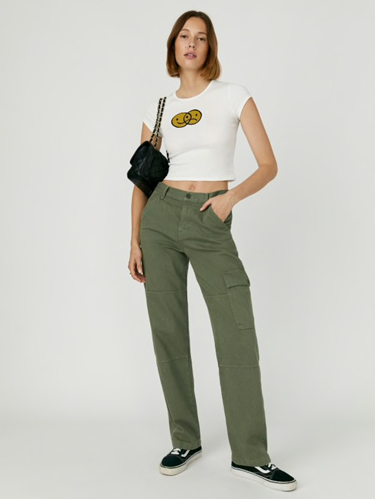 The Harrison Carpenter High Rise Straight Pants in Clay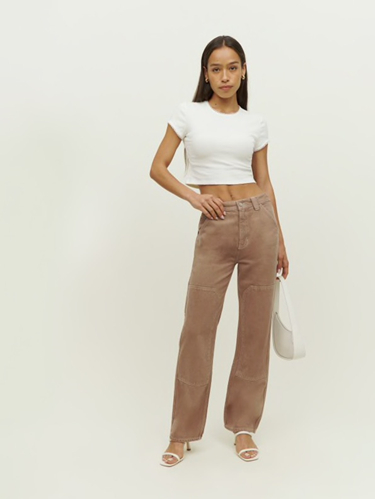 The Mckenna Mid Rise Slouch Cargo Jeans in Seneca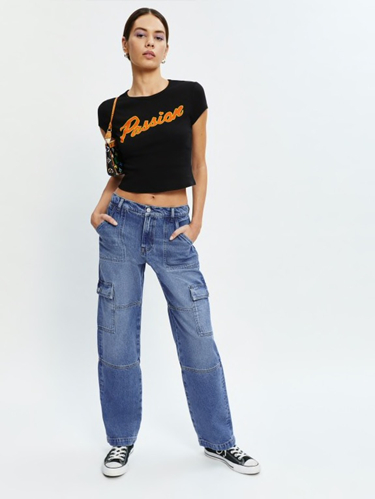 The Bailey High Rise Utility Pant in Daria Embroidery

Printed and Patterned Pants
You can wear the print on your clothes, and not just on a graphic tee. Printed and patterned pants are a staple. They take any outfit from okay to eye-catching. We especially love pairing bold pants with a solid colored top and light jacket to build off of the pants' color scheme. If you're keen on expressing yourself through your clothes, statement pants with a print you love are a must-have.
The Newsprint High Rise Straight Long Jeans in Comic
The Mixed Emotions High Rise Straight Jeans in Vintage White
The Comic High Rise Straight Jeans in Comic Book
The Sonora High Rise Straight Jeans in Desert Sand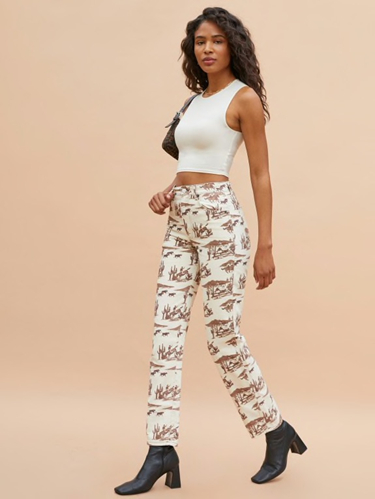 Pants are the perfect clothing piece for creating simple, trendy, and comfortable outfits. You can play around with colors, fits, and styles with these six must-have pant trends. They'll make your wardrobe a happy place perfect for styling fresh new looks. So don't wait on these pants styles if you want to round out your closet. Happy pants shopping!