What To Pack for a European Summer Vacay? – If you're headed to Europe this summer, you're sure to enjoy amazing food, history, and culture, and you'll want to dress the part. European women are known for looking effortlessly stylish. They often wear classic, versatile clothes with carefully chosen accessories to create a total look, and they dress to suit the occasion. As you pack, follow their lead and create a well-curated wardrobe that will take you everywhere you want to go. When you leave your leggings at home and dress with flair, you'll be welcomed with open arms and feel great about how you look.
Light Layers
Summers in Paris are warm, but it's always good to prepare for a chill in the air. A linen blazer, silk bomber jacket, or merino wool cardigan sweater can look chic when you're visiting the Louvre or enjoying a cool evening out to see the lights. When you go sightseeing, tie on a scarf for an afternoon train ride or bring a shawl when you go out to the Café de Flore.
Swimwear
Whether you're stretched out poolside at the Hotel du Cap-Eden-Roc or headed to the Ibiza coast, wearing cute swimwear will sweeten your summertime mood. Pack a bright bikini for Capri and a tank for snorkeling in Lobos. If you'd rather relax on deck, take a nap on a yacht near Mykonos in a daring plunge-neck maillot. Keep in mind that in Europe, beachwear is not for the streets. Cover up in a flowing dress, flats or sandals, and a hat when you're away from the water.
Comfortable Shoes
As you explore the ruins of Pompeii or visit the Brandenburg Gate, you're bound to be climbing steps or striding across cobblestones. You'll need sturdy, flexible shoes that provide hours of comfort, so pick well-made hard- or rubber-soled shoes that look cute with your clothes. In the city, you can keep your feet covered with flat-bottomed Converse or Adidas sneakers or let your feet breathe in Birkenstock sandals. When you're ready for cocktails and a romantic night out, slip on a high-heeled wedge sandal or dressy flat. Break in your shoes before you leave so you won't have to deal with blisters, and wear your chunkiest walking shoes to the airport.
Sun Hat
Trendy hats are essential for summer travel in Europe. Wide-brimmed styles will look glamorous and keep your face shaded when you're in the countryside or by the sea. When you're in the city, a simple straw fedora or Panama hat will help you look put together and keep you feeling cool. Whatever you do, make sure to take along a pair of sunglasses to protect your eyes from the sun's dazzling rays.
Darling Dresses
To feel well dressed wherever you go, put on a dress. A slip-style gown is easy to pack, and you can throw on another layer if you need to cover up. An easygoing, caftan-inspired, or floral frock can look contemporary paired with vintage-style sneakers. If you are visiting a religious site like St. Stephen's Cathedral in Vienna or the Mezquita in Cordoba, wear a modest, below-the-knee dress or skirt. It is also recommended to wear clothing that covers your shoulders.
Mix and Match Separates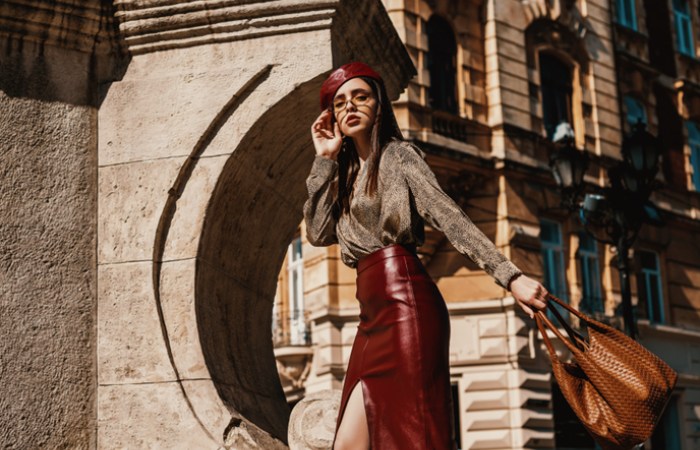 When you're packing for your trip, the best way to be ready for anything is to pack a capsule wardrobe of mix-and-match separates. A silk midi skirt or two, a pair of neutral cotton or linen pants, and a few cute, coordinating tops should be enough to get you through the week. After all, you may want to pick up some new outfits while you're shopping at Strøget or Rue Neuve. If you keep it classy, you can wear crop tops in Europe with no issues, and you can't go wrong in an airy tunic, classic T-shirt, or oversized button-down. Floral patterns, lace, and crochet details can add a bohemian touch to your look; just be mindful of the local style. Casual shorts that show a lot of leg may be frowned upon in most cities, but you can wear them at the beach. What's appropriate depends on where you are. Ask your well-traveled friends or do some online sleuthing to get a feel for the current trends.
Lovely Jewelry
You don't have to be a plain Jane just because you're on vacation. To finish your look and add shine to your style, wear simple gold or silver jewelry or inexpensive, tasteful glass or semiprecious beads. Keep anything you value on your person at all times; don't leave it at the hotel. It's best to leave your heirlooms or most expensive jewels at home.
Day Bag and Tote
When you travel, you'll need a lightweight, secure bag you can carry all day. Your bag with designated pockets or space should be large enough to carry your smartphone, passport and wallet, as well as your map or guidebook, pens, water and snacks. Keep your belongings safe in a slash-proof crossbody bag with lockable zippers. Also, consider stuffing a packable nylon or cotton tote in your bag in case you want to pick up bread or pastries.
Travel Must-Haves
The temperatures climb in the summer months, and if you're touring the Colosseum in Rome or visiting the Alcazar of Seville, you may get very hot. Bringing along a folding fan, a mini face mist, and a scrunchie or claw clip can help you stay cool. The weather in Europe can be unpredictable, so check the forecast and plan your outfits accordingly. Pack what makes you feel confident and comfortable, and don't forget your sunscreen!
Spinner Luggage
Finally, when you pack for Europe, you'll need luggage for your journey. You can take a backpack, but your clothes will get very wrinkled along the way. For most travelers, a light, durable, and attractive spinner suitcase that can handle stairs and rough pavement is the way to go. Try to pack everything you need in a carry-on bag that you can maneuver in airports and on public transport with ease as you travel to your hotel or resort.
Pack What You Need and Enjoy Your Trip!
When you're on vacation, it's always fun to discover a world you've never experienced. Hopefully, you can find some extra money in your budget for souvenirs. You never know what you'll find, so don't overpack. Let yourself be surprised; you're likely to find clothes you love when you're out and about. Take the essentials that make you feel great, and enjoy your trip to Europe!