Amazing Colors For Your Ombre Nails – When you think of ombre nails, the first thing that should come to mind is the gradient-looking appearance. The color transition has played a great role when it comes to the test of time for this manicure idea. The ombre manicure is obviously versatile in nature, and one of the reasons why this is the case is because each color stands for a unique idea.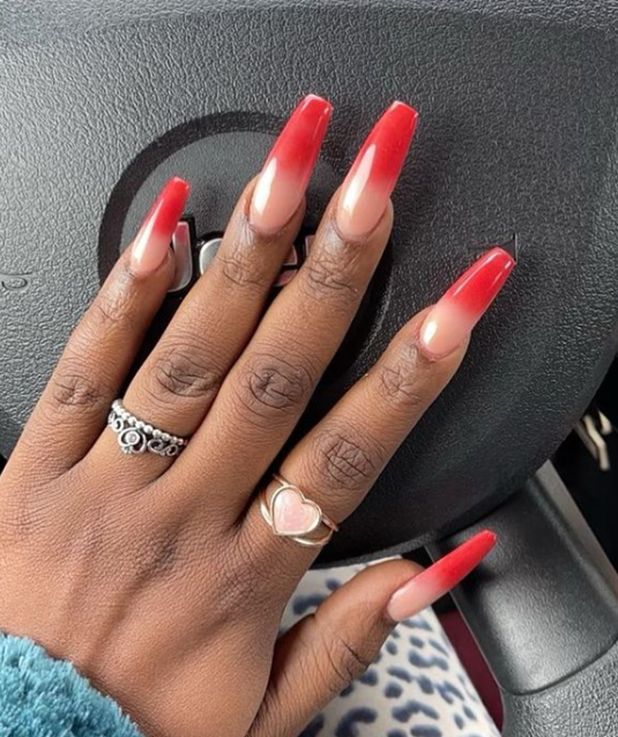 There are so many ways you can wear an ombre manicure by playing around with different colors. The manicure actually allows you to use at least two of your favorite colors or feature a color transition between two shades of your favorite color. The following are cute ideas for the ombre nails sorted out by colors.
1. Orange to Pink
This cute transition is perfect if you are someone who loves bright colors. You can try the boldest shades of pink and orange to make a statement from this idea.
You can wear these nails to both casual and formal functions, and to make more statement try having these colors on long ombre nails.
2. Star Gazing
This amazing nail art will have your manicure looking as beautiful as the sky. Use a sparkling silver coat to make more statement of this bold manicure. You get the privilege of choosing the color to use and the length that you want your nails to be.
3. Purple to Pink
This color combination is one among those that offer a cute transition. Transitioning from purple to pink gets a flattering effect which makes your ombre manicure stand out. You can use bright shades of these colors if you want a lot of attention on your manicure, or use the less bright shades of these colors for a minimalist effect.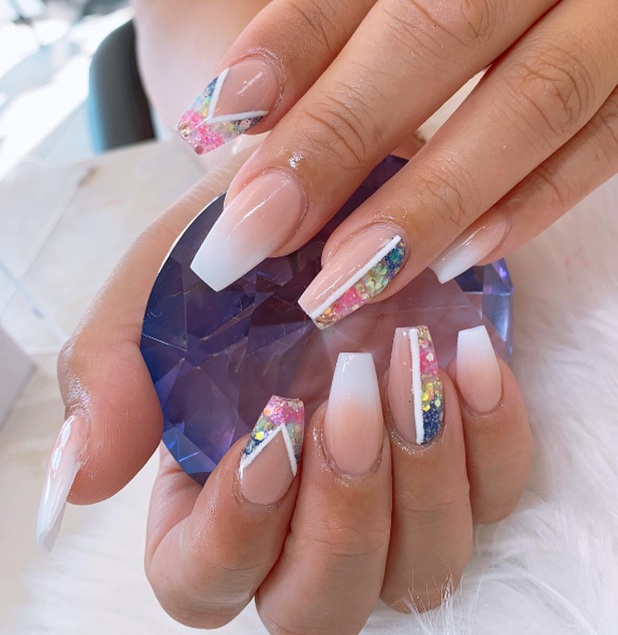 4. Subtle Green
The good thing about ombre manicures is that as long as you use the color you choose in the right transitioning manner, your manicure will obviously be on the spot.
The subtle green color is the best option if you want to add some natural feel to your ombre manicure. For this idea, you get the mint transition that is simply striking.
5. Pink Ombre Tips
This is a French manicure twist whereby instead of the traditional white tips, we have pink ombre tips. The idea is minimal as the transition is from a less bright color, preferably colorless polish, to pink tips.
The pink color is a perfect idea if you want to give your ombre nails a cute feminine touch. You can use different shades of pink depending on your style and your needs on a personal level.
6. Neon Ombre
This is the ideal option if you want to get a modern and sophisticated feel. Neon is some cool-toned shades that are definitely going to turn heads.
You can go the extra mile by using different shades for each different nail. Try this idea on super-long nails for a striking effect.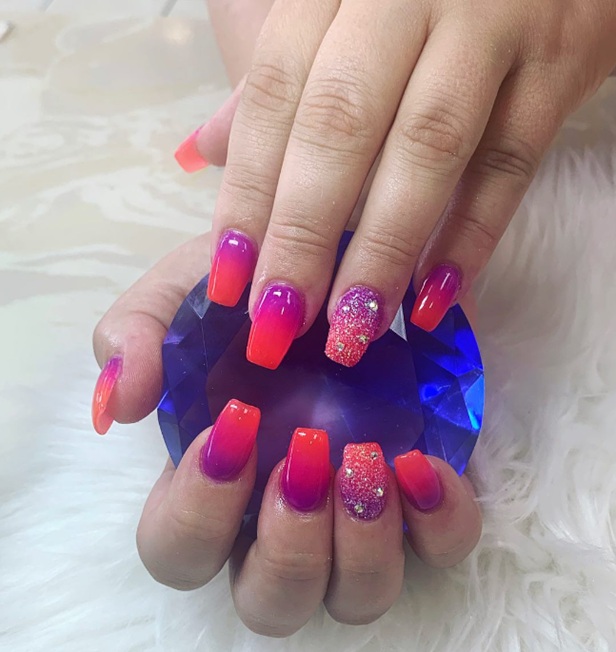 7. Glitter Tips
Glitter tips are really a cool way to improvise on your ombre nails. To get the required attention on the glitter tips, ensure you use a colorless base coat or a very subtle nail color like nude.
The design is easy to come up with, and you can even try it out in the comfort of your home. Try this idea on long nails in order to leave a large surface area for the glitter tips.
8. Black Ombre
This cute design makes a statement without having to be necessarily bright. Black is a bold color for those that love dull colors but do not want to get the attention off their nails completely.
To get more attention on the black tips, you can try long nails and transit from a very subtle color to the bottom.
9. Red Ombre
This is the perfect option if you love really bright colors. You can transition from a dark shade of red to a bright shade at the tips to make a statement.
Red is a bright color that cannot go unnoticed from both short and long distances. The option of the length of nails should be based on your style and personality.
10. Matte
Matte ombre nails are the best option if you want a modern and sophisticated woman vibe.