Best motivational fitness Smart watch: love your fitness journey – If you are reading this, then one of the following this is probably true:
Your new year resolution for this year was to stay fit, but you are already struggling to keep up to it
You already are fit and are looking for ways to make your fitness routine interesting
You are looking for ways to make your fitness routine smart and peppy
Doesn't matter which one of these is true, we have a solution for you that will meet all your needs – A Smart Fitness Watch!
You might be wondering, how can a watch motivate me to achieve my fitness goal? Well, if it would have been your traditional watch then definitely not! All thanks to technology, these smart bracelets come loaded with many interesting features that make them your fitness companions. Not only do these smartwatches help you track your fitness routine, but also motivate you to push your boundaries with constant reminders!
To ease your trouble, we have come up with a list of best smartwatches that will ensure that your fitness goals are met and you get to achieve them in style:
boAt Flash
Your quest for the perfect fitness partner ends with this spectacular smartwatch!
This smart fitness watch features a 1.3" TFT colorful screen with 2.5D full touch feature! The multiple sports modes for outdoor running, indoor running, cycling, spinning bike, cricket, hiking and so on help you track your activities.
You can also count on this smartwatch to monitor your heart, count your steps, distance covered & calories burned. And if you have been sitting for too long, it gives you reminders to stand up. The target reaching reminder feature also pushes you to not let go of your fitness goals easily!
The breath training mode helps you relax and unwind after a heated workout session. The 5ATM rating gives you the confidence & freedom to keep on going – even when you are sweating or running in rain!
And if you ever get bored then you can use your wrist to blast your favorite tunes that will further motivate you to run that extra mile or complete that set!
Noise Colorfit Pro 3
Classy, bold and smart – this smartwatch is absolutely splendid! It features a square-shaped 1.5" touchscreen HD display with a resolution of 320X360 pixels.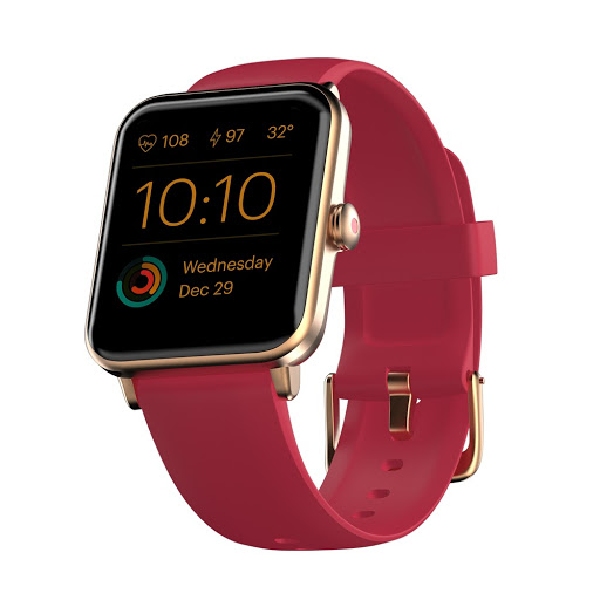 The touch interface is pretty smooth so that you can swing between modes and screens without any hassles. The display has thin bezels around the corners but has a thick chin. However, the watch case is made up of plastic which does not feel sturdy.
The watch comes with detachable silicone straps. The watch is pretty light, and the straps are comfortable to put on for long hours. It monitors your heart and oxygen levels 24*7 and comes packed with 14 activity trackers that help you make the most of your workout!
Apart from the fitness activity trackers, there is a special mode to facilitate breathing exercise, has a sleep monitor to track your sleep, and it can also measure your stress levels. The sleep tracker is fairly accurate and helps one in improving their sleep pattern.
You can also control the music being played on your smartphone from your watch.
Amazefit bip U
Take a steady step towards fitness with this smartwatch! Weighing just around 31g, you can wear it comfortably all day and night!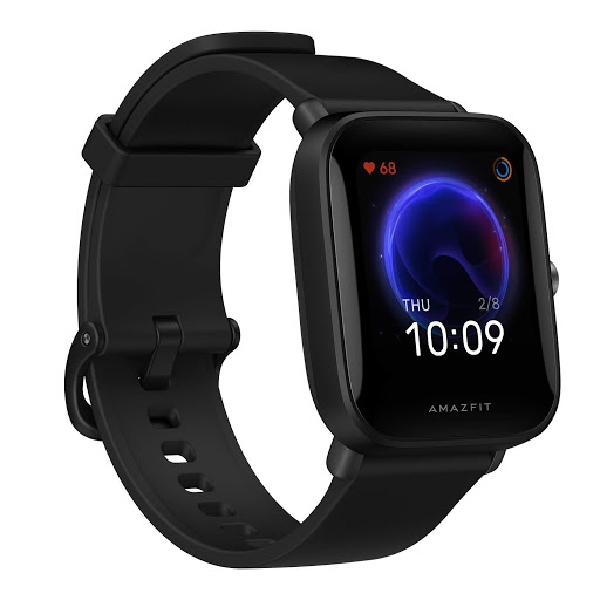 The 1.43" large color screen lets you enjoy a clearer and cleaner view. The 320×302 pixel resolution creates an exquisite visual display, making all incoming calls, messages, and reminders extremely clear. And if you are someone who likes to flaunt a new style everyday then the 50 watch faces are available for you to match your mood and outfit.. You can even upload your own photos for a more personalised watch face.
When it comes to fitness related features, it comes with 60+ sports modes with high-precision GPS3. It records your exercise data and helps you take your workout performance to another level. You can also check your walking distance, speed, and calories burned.
The watch supports stress monitoring and can provide breathing training to help balance your stress levels, so that you can know when you need to rest and relax.
This smart fitness watch also helps you record your menstrual and ovulation periods, and alerts you before they arrive so that you can plan ahead and avoid disruptions.It is Water-resistant up to 50 meters, you can wear the Bip U for swimming and it will record your achievements even under water.
Fire-Boltt Full Touch Smart Watch
Make your fitness routine fun, exciting and smart with this one of the best smart watches!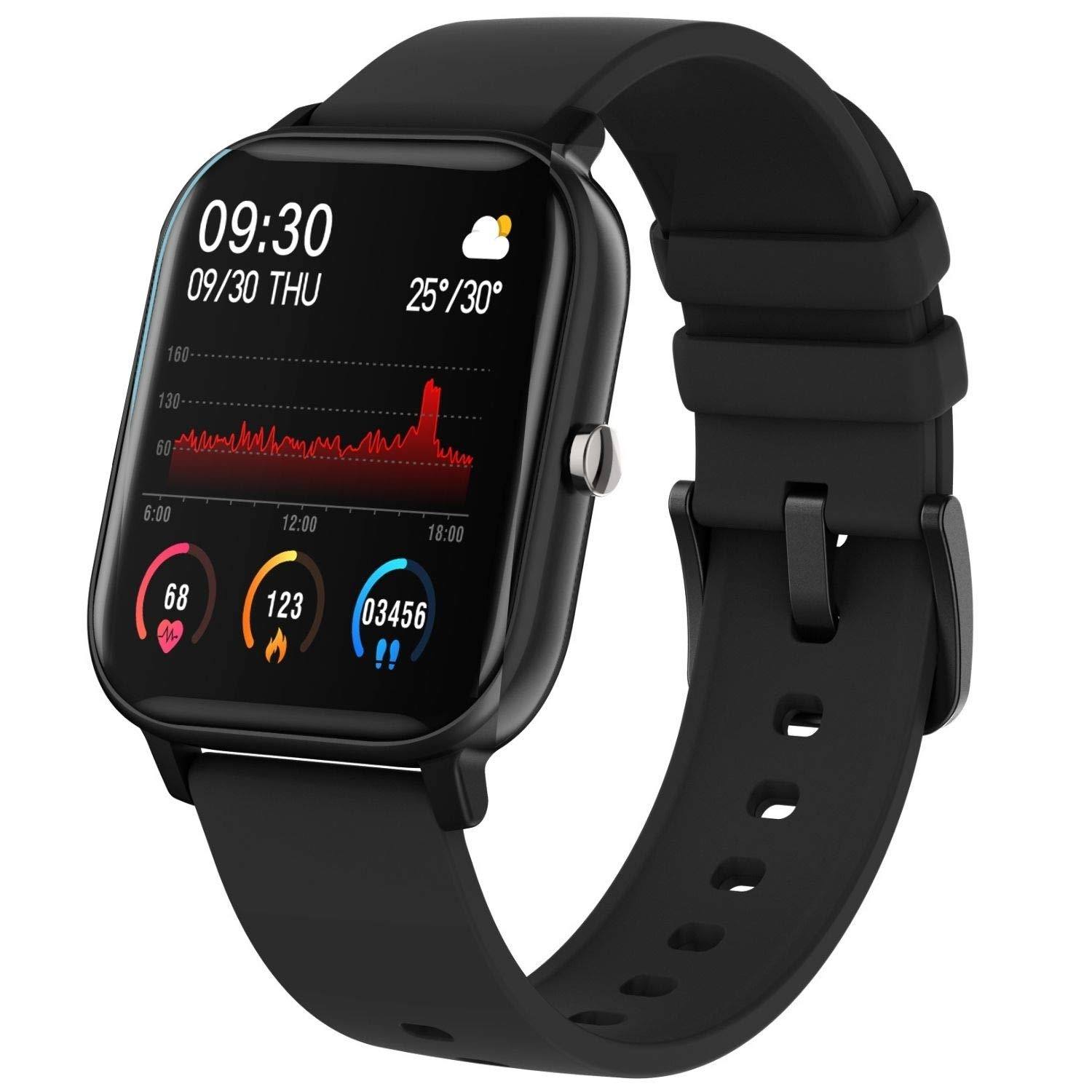 The 1.4" HD screen display with a screen resolution of 240*240 pixels allows you to take charge of your day! This all in one smartwatch is loaded with many features that will help you monitor your fitness routine effectively.
For starters, it comes with a 24*7 heart monitors and a blood pressure monitor which allows you to find your sweet spot during exercise. You can also keep a track of your blood oxygen levels SPO2. The 7 workout modes for running, skipping, cycling, walking and so on provide you inputs to optimize your performance.
The IPX7 water resistant rating gives you the freedom to not stop pushing your limits even when you are drenched in sweat! The powerful battery can give you up to 8 days of steady fun!
So get going with your fitness schedule as these best smartwatches will keep you motivated and focused!