Sunscreen is an essential part of any skincare routine. It protects the skin from harmful UV rays that can cause sunburn, premature ageing, and even skin cancer. However, many people do not apply enough sunscreen to their faces, which can compromise its effectiveness. Those with oily skin may prefer a lightweight, oil-free sunscreen, while individuals with dry skin may benefit from a more moisturizing formula. Sunscreen with SPF protecting your skin from damage and premature aging.
Wearing sunscreen with SPF every day is important for your skin's health. Incorporate sunscreen with SPF into your skincare routine, It is also important to reapply sunscreen with SPF 50 throughout the day, especially if spending extended periods of time outdoors or participating in activities that cause sweating or water exposure. Experts recommend reapplying sunscreen every two hours or immediately after swimming or sweating. Other expert recommendations also include using a broad-spectrum SPF 50 sunscreen. Individuals with sensitive skin should opt for a mineral-based sunscreen, which contains zinc oxide or titanium dioxide, as these ingredients are less likely to cause irritation. When it comes to finding the best SPF 50 sunscreen, there are many options available on the market, each with its own unique features and benefits. Look for a sunscreen that is water-resistant, as this will ensure that it stays on even when you sweat or swim. Mineral sunscreens are a great option for those with sensitive skin, as they use natural ingredients like zinc oxide or titanium dioxide to block UV rays. Many dermatologists recommend broad-spectrum sunscreens, which protect against both UVA and UVB rays. Some of the best SPF 50 sunscreens on the market offer additional benefits like moisturization, anti-aging properties, or a matte finish. Ultimately, the best sunscreen with SPF 50 for you will depend on your skin type, concerns, and lifestyle.
How Much Sunscreen Should We Apply on the Face?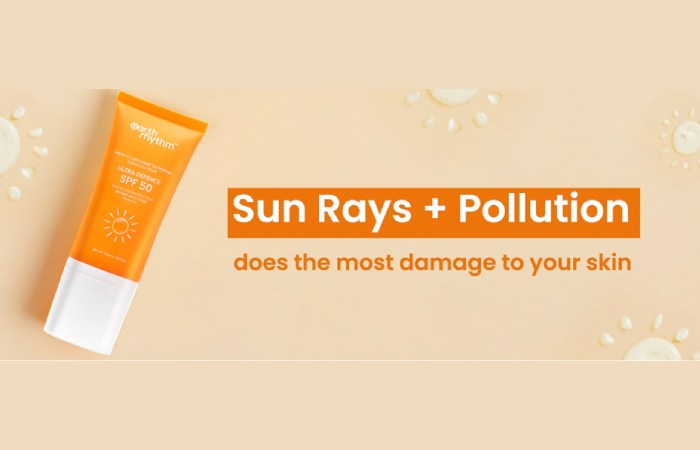 According to the American Academy of Dermatology, a nickel-sized amount of sunscreen with SPF 50 should be applied to the face. This is equivalent to about half a teaspoon. However, this amount may vary depending on the size of the face and the individual's skin type. When applying sunscreen, it is important to cover all exposed areas of the face, including the nose, cheeks, forehead, and chin. It is also essential to apply sunscreen to the ears, neck, and any other exposed areas of the skin.
In addition to the amount of sunscreen applied, it is also important to consider the SPF (Sun Protection Factor) of the product. The higher the sun protective factor (SPF), the greater the level of protection from UV rays.
What is the 2-Finger/3-Finger Rule for Sunscreen?
The sunscreen 2-finger rule or 3-finger rule is a general guideline to ensure that you apply enough sunscreen to protect your skin. This rule suggests that you apply enough sunscreen to cover two or three fingers worth of skin, depending on the size of your hand.
However, it's important to note that the effectiveness of sunscreen depends on several factors, including SPF and the amount of sunscreen applied. It's recommended to use at least SPF 30 and to apply enough sunscreen to cover all exposed skin, including the face, neck, ears, and any other areas not covered by clothing.
Why is Sunscreen Important?
It is necessary to use sunscreen before going out in order to protect the skin from heat and damage. Apart from that, there are other useful effects of using sunscreen, as mentioned below:
Retains Important Elements of the Skin
Important elements in the skin, such as protein, keratin and collagen, are protected within the skin with the application of sunscreen. These elements work towards making the skin brighter and softer.
Lowers the Risk of Skin Cancer
It is a lesser-known fact that the use of sunscreen helps with lowering the risk of skin cancer. Using sunscreen daily can shield the skin from cancer which can be life-threatening for women.
Exposure to heat can cause sunburns that can leave the skin transparent, making bruises visible. It can also make the skin more prone to redness, itching and swelling. Applying sunscreen regularly can eliminate the chances of major sunburns and protect the skin.
Prevents Premature Ageing
Using sunscreen regularly will reduce the formation of fine lines and wrinkles and other factors like dark spots and hyperpigmentation. This helps in preventing premature ageing of the skin.
Nowadays, sunscreens can be used as a cosmetic and left on. Those with sensitive or dry skin must reapply it from time to time for better results.
Earth Rhythm Ultra Defence Hybrid Best SPF 50 Sunscreen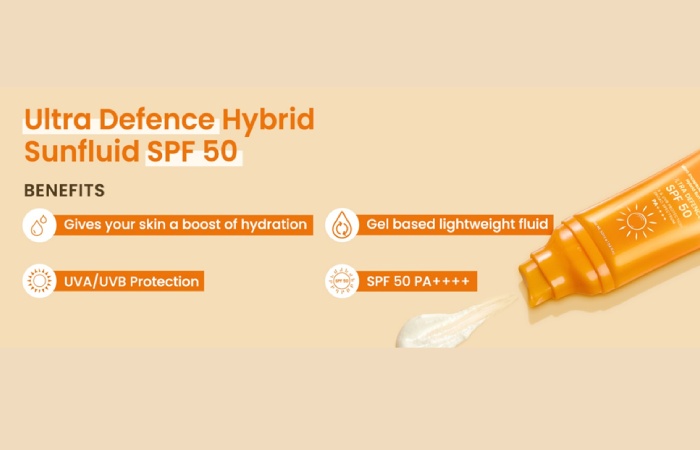 The Earth Rhythm Ultra Defence Hybrid Sunscreen Fluid SPF 50 is a gel-based lightweight sunscreen with SPF 50 PA ++++. It has a creamy texture and provides hydration to the skin. It consists of both mineral and chemical formulas and is cruelty-free and fragrance-free. This sunscreen is clinically tested and is dermatologically proven to be effective. Cruelty-Free Sunscreens with SPF 50: Protecting Your Skin and the Environment
Benefits of Earth Rhythm Ultra Defence Hybrid SPF 50 Sunscreen
Gives protection against the sun and its harmful UV rays
It is water resistant
Does not leave a white cast on the skin after application
Boosts hydration in the skin
Prevents tan
Applying an adequate amount of sunscreen with SPF 50 to the face is crucial in protecting the skin from harmful UV rays. A nickel-sized amount should be applied to cover all exposed areas of the face, with a minimum SPF of 30. It is also important to choose a sunscreen suitable for your skin type and to reapply regularly throughout the day.