The microneedling actually is a cosmetic procedure involving fine needles puncturing the skin and stimulating collagen production. This treatment is designed to improve the overall appearance of the skin, reducing the appearance of fine lines, wrinkles, and acne scars and improving skin texture and firmness.
Whether you want to improve your skin's appearance or simply rejuvenate its youthful glow, microneedling is an excellent option to consider. You can achieve healthy, youthful skin with the right provider and a tailored treatment plan.
You can perform the procedure in-office by a professional or with at-home devices, making the process even more admirable.
Microneedling has become increasingly popular in recent years, with many individuals seeking this treatment to rejuvenate their skin and achieve a more youthful appearance.
How Microneedling Works?
Microneedling works by using fine needles to create micro-injuries in the skin. These tiny punctures stimulate the body's natural healing process, producing new collagen and elastin fibers.
Collagen and elastin are two key proteins in the skin that help maintain its elasticity, firmness, and youthful appearance.
As we age, the production of these proteins decreases, leading to fine lines, wrinkles, and sagging skin. By stimulating the production of collagen and elastin, microneedling helps improve the skin's overall appearance and reduce the signs of aging.
The size of the needles used in microneedling can vary, depending on the desired outcome and the area being treated.
Shorter needles are typically used for more superficial treatments, while longer needles may be used for deeper penetration and the treatment of more severe skin concerns.
The depth of the needles used will also determine the intensity of the treatment, with deeper needle penetration leading to more dramatic results but also a longer recovery period.
Benefits of Microneedling
Microneedling has several benefits, making it an attractive option for those seeking to improve the appearance of their skin.
Improved Texture and Firmness
One of the key benefits of microneedling is that it can improve the texture and firmness of the skin. This is due to the increased production of collagen and elastin, which help to provide structure and support to the skin. As a result, fine lines and wrinkles are reduced, and the skin appears smoother and more youthful.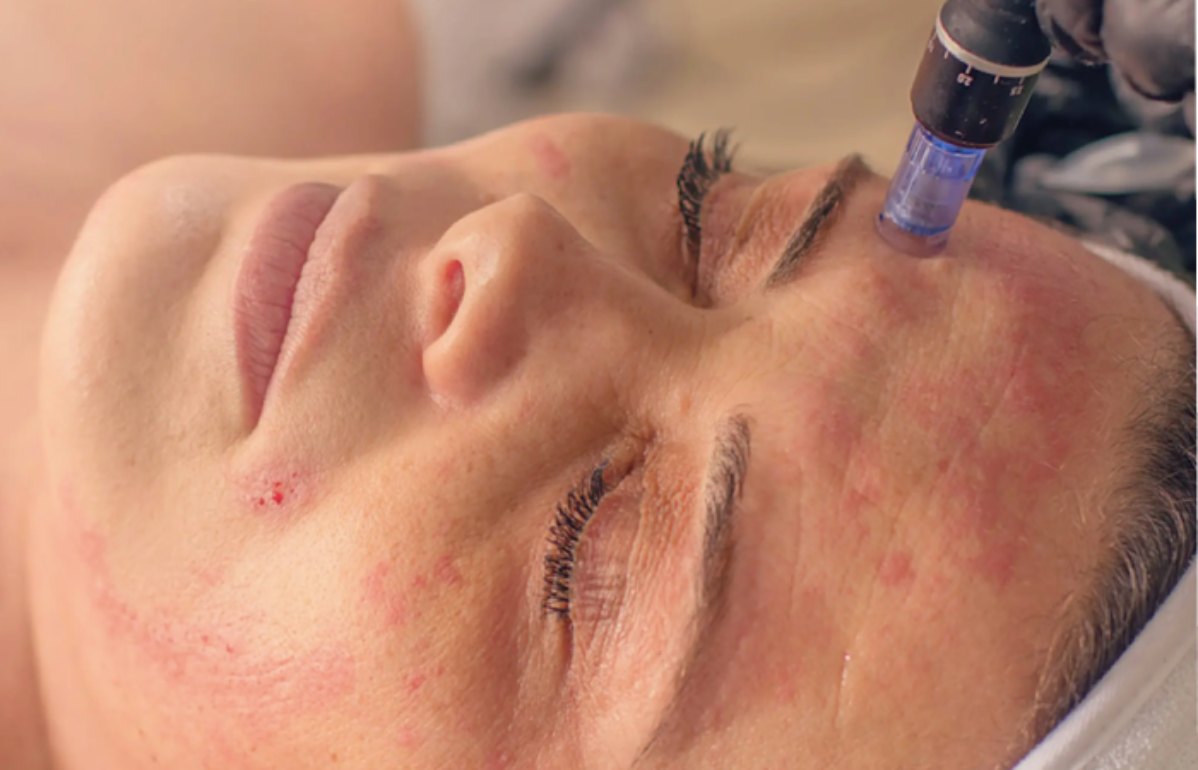 Another benefit of microneedling is it can improve the appearance of acne scars. The micro-injuries created during the treatment help break down scar tissue and stimulate the production of new, healthy skin production. This can lead to a reduction in the appearance of acne scars, as well as an improvement in skin texture and tone.
Microneedling can be combined with other treatments, such as the application of topical serums or growth factor-rich PRP (platelet-rich plasma) treatments, for enhanced results.
This is because the micro-injuries created during the microneedling process can help to increase the absorption and effectiveness of these treatments.
Finally, microneedling is a relatively low-risk procedure with few side effects. It is generally considered safe for all skin types and can be performed on the face, neck, and décolletage.
The procedure is also non-invasive, meaning no downtime or extensive recovery period is required following the treatment.
Risks and Precautions of Microneedling
While microneedling is a relatively safe cosmetic procedure, there are some risks and precautions to consider. One of the main risks associated with micro-needling is the potential for infection.
This can occur if the needles used in the procedure are not properly sterilized or if the skin is not properly cleaned before treatment. To minimize the risk of infection, it is important to choose a reputable provider and to follow all pre- and post-treatment instructions carefully.
Additionally, some individuals may experience redness, swelling, and discomfort following the treatment.
These side effects typically subside within a few days, but in rare cases, they may persist for longer. It is important to discuss any concerns or side effects with your provider following the treatment.
Choosing the Right Microneedling Treatment
Choosing the right microneedling treatment is essential for achieving the desired results. When considering microneedling, choosing a reputable provider with experience in the procedure is important. It will help to ensure that the treatment is performed safely and effectively.
However, there are some other factors, too, that you must consider before opting for a Microneedling treatment. Have a look below.
Consultation for the Right Procedure
It is important to choose a treatment that is tailored to your specific skin concerns and desired outcomes. For instance, doctors mostly recommend a superficial treatment to those seeking to reduce the appearance of fine lines and wrinkles. In contrast, those with severe acne scars may need a deeper treatment with longer needles. The frequency of treatments will depend on the individual and their specific needs, with some individuals opting for monthly treatments while others may only require treatment once or twice per year.
The type of microneedling device used can also impact the effectiveness of the treatment. Some devices, such as dermal rollers, use manual pressure to create the micro-injuries, while others, such as microneedling pens, use a motor to create the punctures. Choosing a device that is comfortable, easy to use, and compatible with your skin type and desired outcome is important.
It is important to consider the cost of the treatment and the overall cost of maintaining the desired results. Some providers may offer packages or memberships that can help reduce repeated treatments cost. It is also important to consider any additional costs, such as topical serums or PRP treatments, which may be necessary for enhanced results.
By choosing the right microneedling treatment, you can ensure that you achieve the desired results and enjoy healthier, more youthful-looking skin.
Conclusion
In conclusion, microneedling is an invasive cosmetic procedure that offers several benefits for those seeking to improve the appearance of their skin. While there are some risks and precautions, the procedure is generally considered safe and has few side effects. Individuals can enjoy healthier, more youthful-looking skin by choosing the right microneedling treatment and working with a reputable provider. If you are considering microneedling, discuss your skin concerns and desired outcomes with a qualified provider to determine the best treatment.